*NEW*

Service Status & Service Alerts

We have completely re-written our service status page to improve visibility and aid the flow of notifications to those who need to know. In summary:
Service status feed now sits outside of the ICUK network for visibility in all scenarios
You can continue to view our feed from within the control panel, or using www.interstatus.co.uk
Email and SMS notifications can be easily setup for any of our services
Subscribe to individual fault condition updates
Colour coding and new graphics to represent the severity and category of issue
View historical issues and updates
NOTE: Contact details you have entered into the former service status page are not automatically subscribed to this new feed. Please ensure you take the time to visit www.interstatus.co.uk and subscribe.
NOTE: This does not impact monitoring and alerts for leased lines, they continue as they are.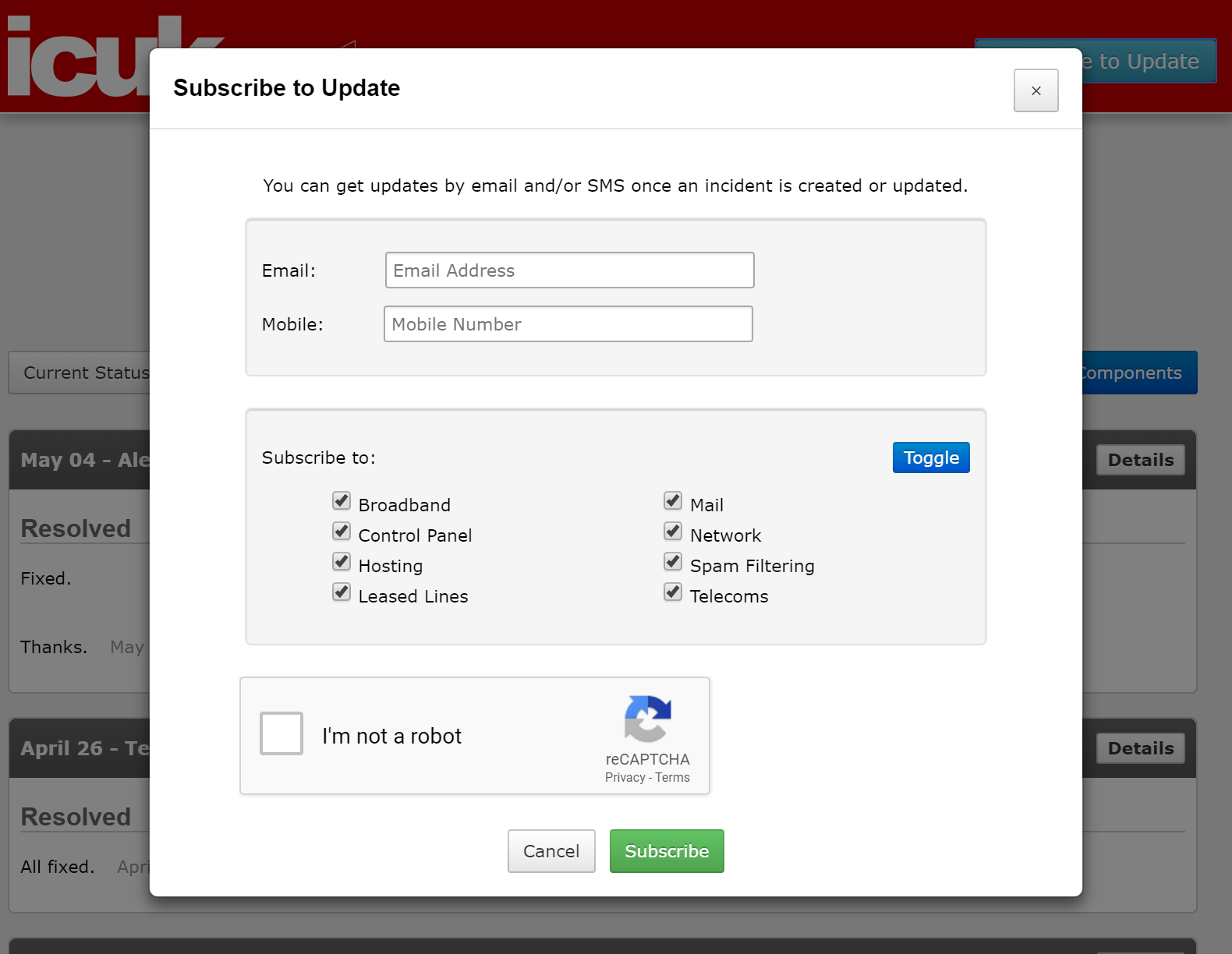 *NEW*

Standard SSL Certificates / Lower Pricing

SSL certificate demand is at an all-time high thanks to improved consumer awareness of submitting personal information online, as well as the likes of Google pushing hard to increase visibility where security is low. We have two significant enhancements to our SSL certificate offering:

Standard SSL Certificates - From £17 (normally £27)

SSL certificates are a cost-effective solution for customers who simply need a basic SSL certificate, and aren't fussed about the technicalities and differences between the options. Prices start from £27 per annum for resellers, which for the next month we're lowering to £17 per annum for the first year (offer ends 31st August 2018). Ordering a Standard SSL is the same process as you would a Professional SSL, including the domain validation process.

Lower Professional SSL Pricing - From £75 (reduced from £97)

Our Professional certificates remain the ultimate solution for clients who want a premium SSL solution coupled with a dedicated IPv4 address to aid SEO performance. We are lowering with immediate effect the charges for these. They now start at £75+VAT per annum for registrations and renewals.
*IMPROVED*

WLR Fault Tracking & Engineering Notes

We have completed a revamp of the WLR fault experience:
Fault notes and controls are no longer presented as one long page
Openreach notes are split into their own page for ease of reference
Additional information and notes, including engineer notes, are presented in tabular form, as opposed to the block of text which Openreach supply it to us in. This will significantly aid understanding.
Increased visibility of temporary call diversion on the fault summary page
Graphical representation of the care level applied
Icons arranged in a more logical fashion
New flow diagram to reduce page size
When raising a fault you can now allow multiple email addresses to receive email updates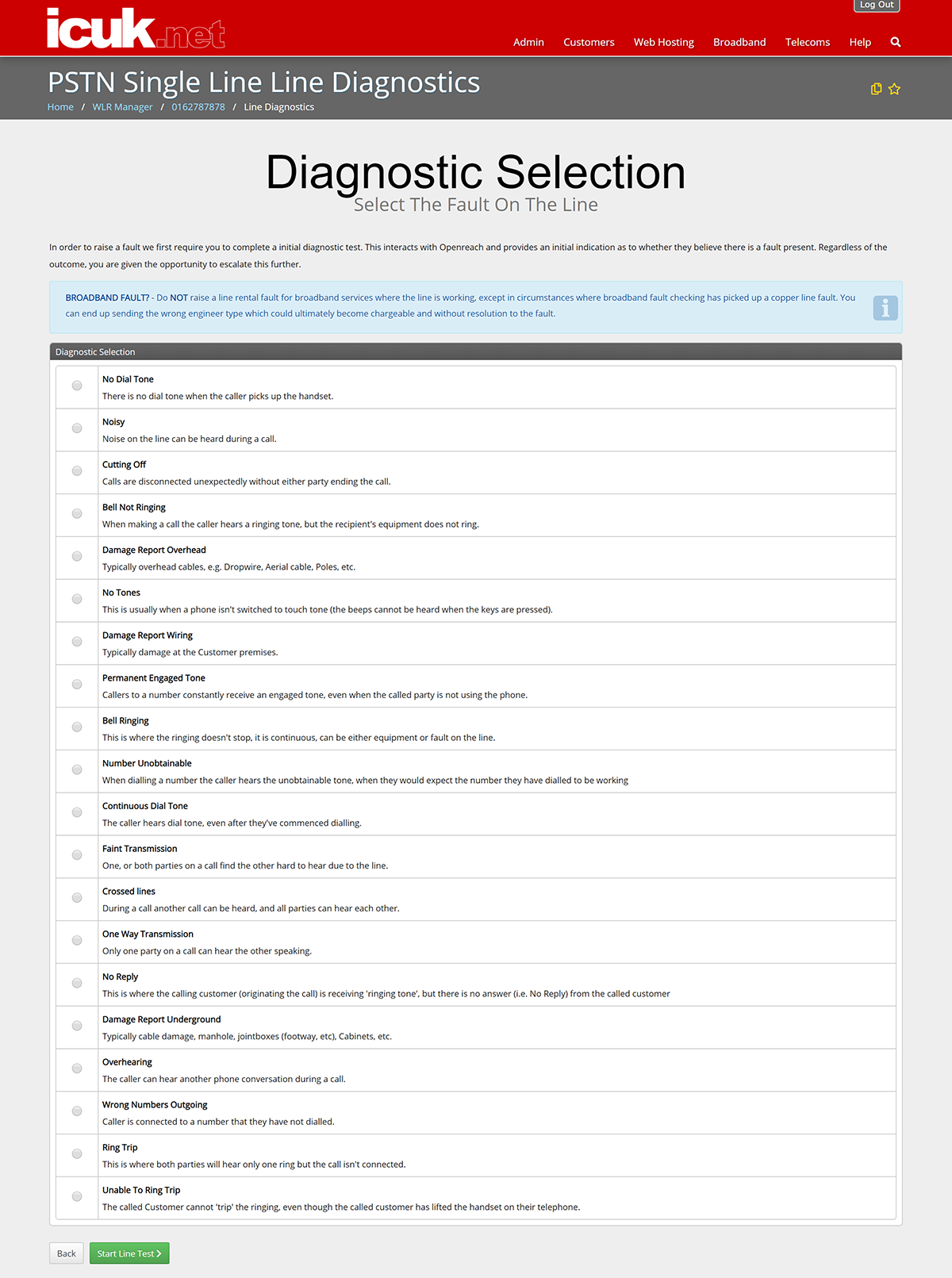 We look forward to applying similar engineering note improvements to the order journey experience, we are simply awaiting new Openreach API updates to make this achievable.
*IMPROVED*

Broadband Checker

The broadband checker is at the heart of the broadband ordering experience. As a reseller, you need to know the availability of technologies, likely speeds and carriers. We have completed a revamp of our checker design to simplify availability, as well as cater for an extended range of new products.
Technologies are clearer
FTTP, FTTPoD and G.Fast technologies are now shown
Additional detailed descriptions of each technology are provided
Clean and impacted FTTC speeds are now shown via the additional information icon
FTTP ONT visibility including serial numbers and available ports now shown via additional information icon
Additional information including existing broadband technologies and bridge taps are shown
Limited capacity scenarios are now supplied with additional explanations
Shorter and cleaner page
REST API has also been updated to reflect these changes, including a revamped set of ready-made examples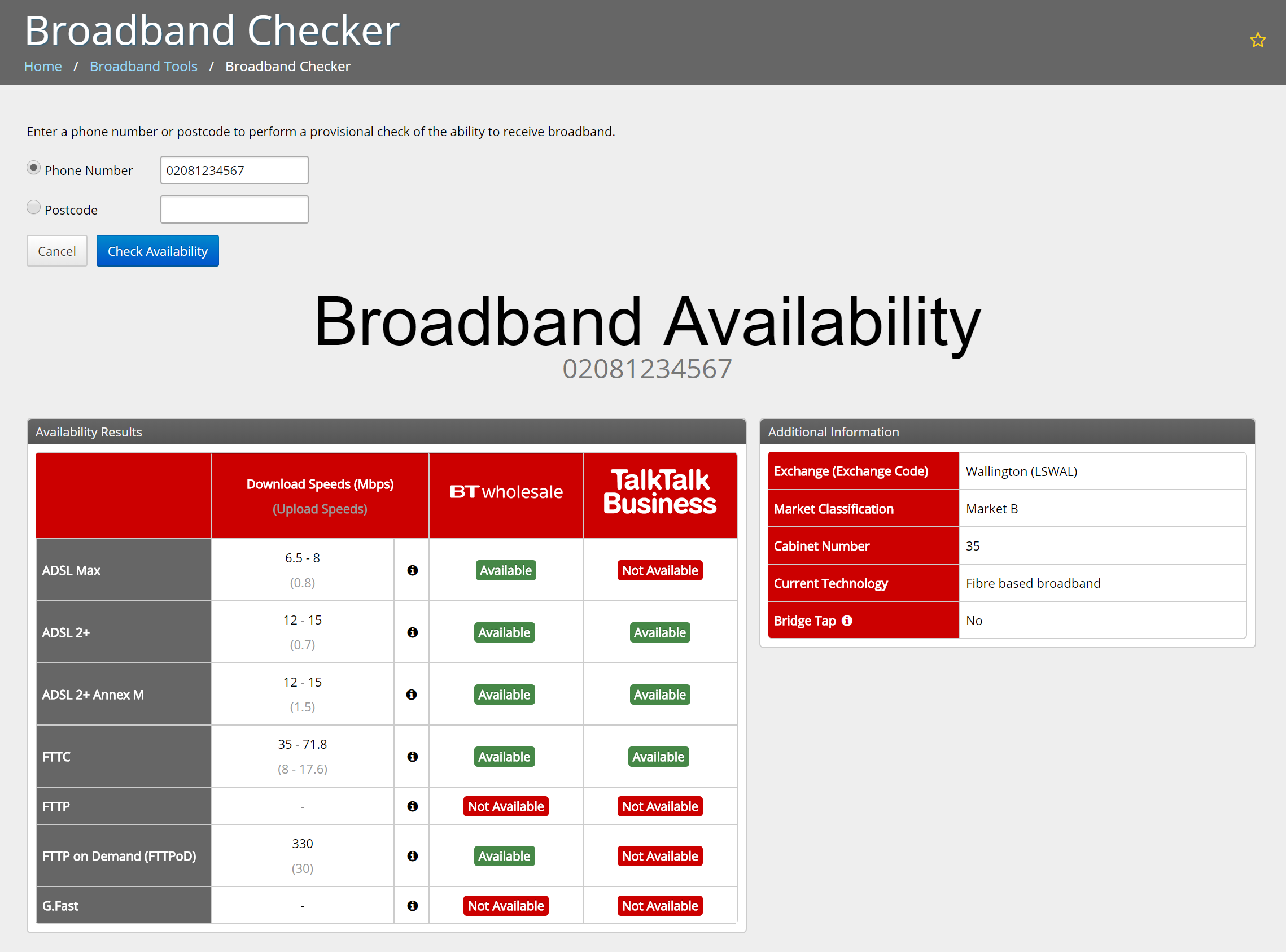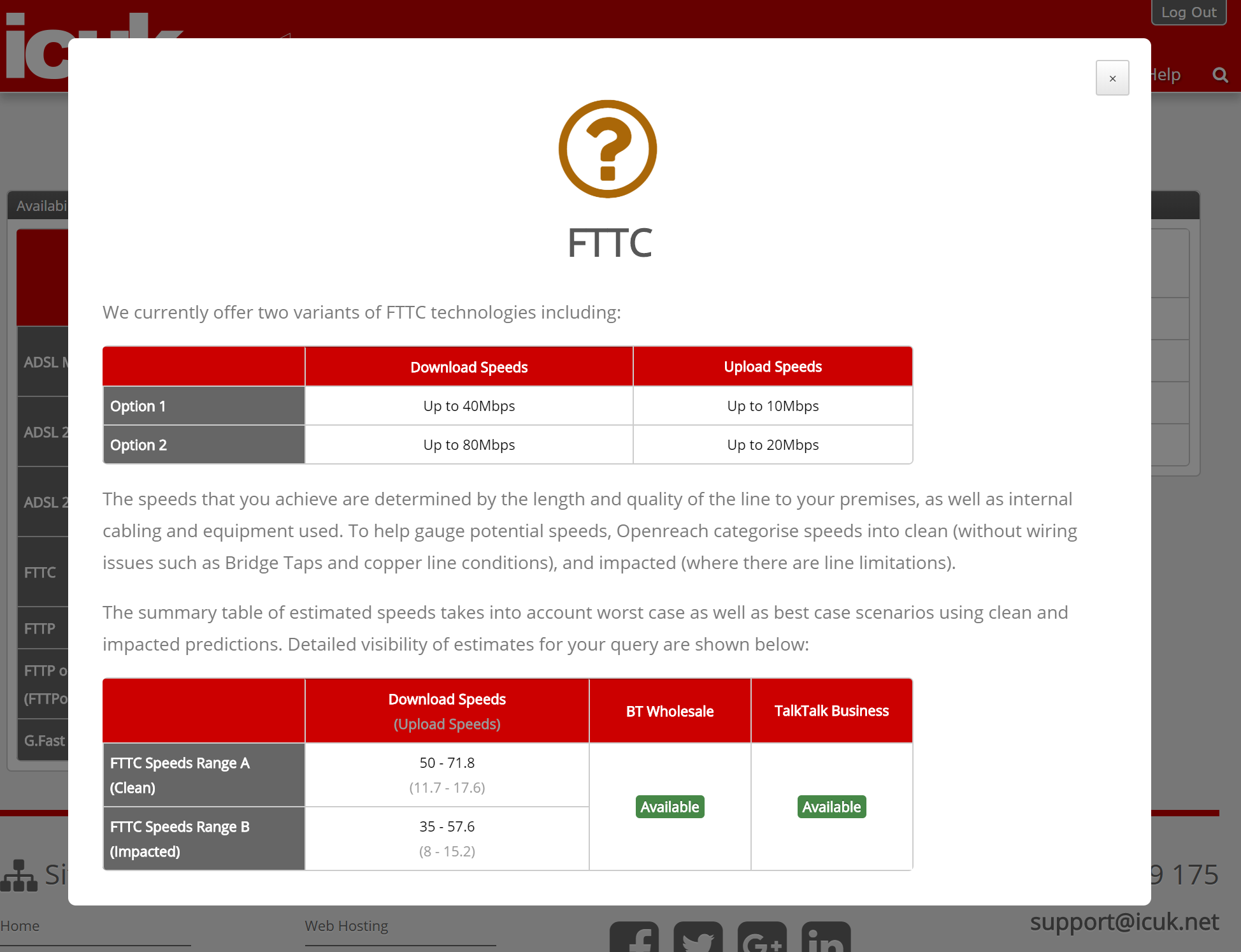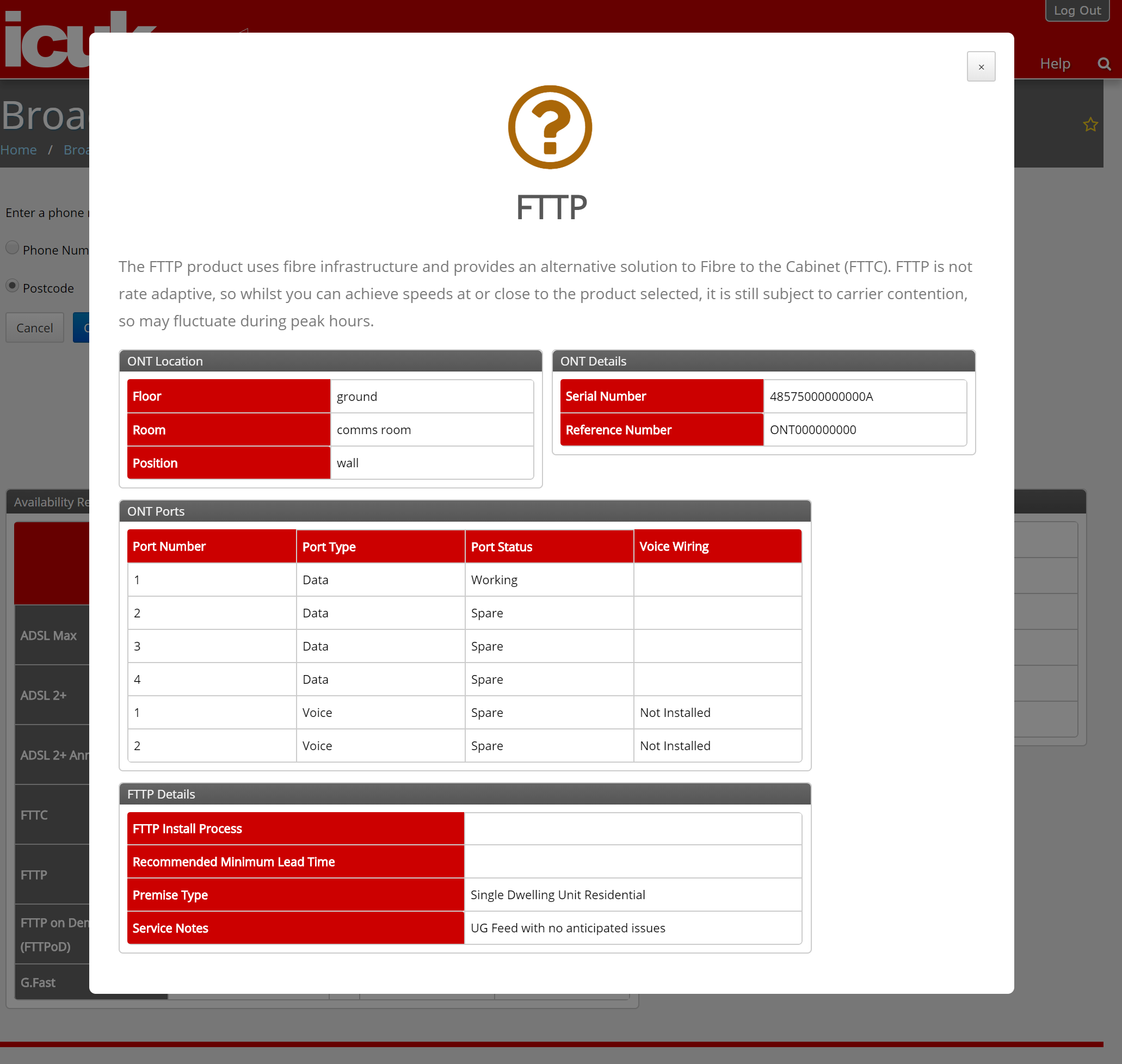 *NEW*

BT Wholesale G.Fast

You can think of G.Fast as a superfast FTTC as it's delivered over your existing copper lines. Availability requires FTTC to be available to the cabinet, as it makes use of the existing fibre delivery. In addition, a short physical line to the cabinet (maximum line length being 250 meters currently) is required. FTTC availability alone doesn't mean you can now receive G.Fast, the cabinet itself must receive an upgrade, often resulting in a modular additional extension being added to side of it. As a result of new equipment being installed to the cabinet, the footprint for G.Fast remains limited, which Openreach intend to increase coverage significantly over the next 12 months. Currently the economics of delivery prevent us from offering a Market A version, should this change we will let you know.
Setup
Contract Length
Market A
(Monthly subscription)
Market B
(Monthly subscription)
G.Fast 160/30 Unlimited
POA
12 Months
-
POA
G.Fast 330/50 Unlimited
POA
12 Months
-
POA
Setup Charge
The setup charge covers the cost of a managed install. An engineer will visit the premises and supply an Openreach modem as part of this visit. This is exactly how FTTC used to be delivered prior to switching to self-install. We expect to see self-install G.Fast options in due course. The customer needs a router, which will support the username authentication aspect, and must be capable of supporting speeds in excess of 100Mb otherwise it will become a bottleneck.
Simultaneous Provision NOT Supported
We can currently deliver G.Fast either as a new provision on a suitable PSTN line, or as part of a technology change migration. We cannot deliver this as part of a simultaneous provision.
REST API Updated
We have updated our API to allowing G.Fast orders to be placed.
Lower Prices on BT Wholesale FTTP Products
We have a wider range of FTTP products available to both Market A and Market B areas. Subscription charges are our wholesale costs to yourself, exclusive of VAT. Prices below are correct at time of ordering, please refer to the wholesale pricing page for the very latest prices applied to your account.
BT Wholesale
Market A
(Monthly subscription)
Market B
(Monthly subscription)
Setup
Contract Length
Data Only
Transition Line
Data Only
Transition Line
FTTP 40/10 Unlimited
POA
12 Months
POA
POA
POA
POA
FTTP 80/20 Unlimited
POA
12 Months
POA
POA
POA
POA
FTTP 160/30 Unlimited
POA
12 Months
POA
POA
POA
POA
FTTP 220/20 Unlimited
POA
12 Months
POA
POA
POA
POA
FTTP 330/30 Unlimited
POA
12 Months
POA
POA
POA
POA
FTTP 330/50 Unlimited
POA
12 Months
POA
POA
POA
POA
FTTP 500/165 Unlimited
POA
12 Months
POA
POA
POA
POA
FTTP 1000/220 Unlimited
POA
12 Months
POA
POA
POA
POA
These Prices Apply to New & Existing FTTP Orders
Transition Line
To be eligible for the transition line pricing, you must have an ICUK supplied PSTN line in the premises. This must remain active for the duration of the FTTP contract.
Data Line
The pricing is applicable when there is either no existing Openreach copper based PSTN line in the premises, or you are not in a position to transfer this to ICUK's control.
Market A / B
Our broadband checker clearly states the market classification for a line or address. Market A addresses are where BT continue to operate a monopoly or majority market force. In this instance Ofcom regulate the price, setting it high. Market B locations are where there are multiple alternative carriers to BT Wholesale, and price is allowed to be more competitive. It is hoped that market A can be eradicated soon, but it's dependent on Ofcom making such a ruling.
Setup Charge & Contracts
FTTP orders carry a setup charge and minimum 12 month contract period. They are subject to potential Excess Construction Charges (ECC) which need acceptance prior to work commencing.
*NEW*

BT Wholesale FTTP on Demand (FTTPoD)

FTTP On-Demand (FTTPoD or FoD) allows end users to upgrade to FTTP speeds when their premises are served by an FTTC enabled cabinet. It differs from conventional FTTP because the plan and build is done in response to an individual customer order, rather than proactively for a geographic area. As a result, this bespoke delivery process can take a long time and is likely to be subject to ECC. You can think of it more like a leased line but without the benefits of no contention or an SLA for faults.

CAUTION: Whilst availability will show across a large portion of the country, caution should be made to whether this is the most cost-effective solution. It should not be treated like other broadband connections, owing to the high delivery costs and bespoke delivery process which can take many months in some instances to deliver.

Upon ordering the process and charges will be as follows:
Desktop survey requested with the carrier. This is completed free of charge. Allow up to 7 days for this to complete.
Assuming no immediate challenges are disclosed, and the desktop ECC estimates are reasonable, a survey engineer will be requested. If desktop ECC estimates are high we will ask you if you wish to proceed. This is chargeable regardless of the outcome at £250+VAT.
ECC charges may be identified. You can choose to accept or decline the order at this point. ECC charges must be accepted paid in advanced of works starting.
ECC costs can be lowered if multiple FTTPoD orders are linked at the same time (e.g. multiple orders to the same dwelling or close neighbours). Currently, Openreach lower ECC costs by £700 per additional dwelling.
All FTTPoD orders are subject to a fixed setup charge of £495 which is in addition to any ECC.
Depending on challenges of install we have been advised to expect engineering works to be completed within 3-12 months. Much the same as a leased line, we are unable to provide in advance confirmation of just how long they may take.
Survey
Setup
Contract Length
Market A
(Monthly subscription)
Market B
(Monthly subscription)
FTTPoD 330/30 Unlimited
£250
£495
12 Months
-
POA
REST API Updated
We have updated our API to allowing FTTPoD orders to be placed.
*NEW*

Dedicated Servers

We have a number of enhancements in the pipeline for dedicated servers over the coming months. The first of which is a revamp to the server specifications we offer. Highlights to our new range of servers include:
Latest generation Intel processors
Up to 10Gb Ethernet connectivity
SSD hard drives on higher specification machines
RAID-10 hard drive array options
New operating system options
Server Name
Intel
Processor
RAM
Hard Drives
Ethernet
Monthly
Price
ICUK-100
E3-1230v5
16GB
1TB x 2
SATA
RAID-1
1Gbit
POA
ICUK-200
E3-1270v5
32GB
1TB x 2
SATA
RAID-1
1Gbit
POA
ICUK-300
Dual E5-2620-V4
64GB
1TB x 2
SATA
RAID-1
1Gbit
POA
ICUK-400
Dual E5-2620-V4
128GB
3TB x 4
SATA
RAID-10
1Gbit
POA
Enhanced Servers with SSD and 10Gb Ethernet Connectivity
ICUK-500
E3-1230v5
16GB
512GB x 2
SSD
RAID-1
10Gbit
POA
ICUK-600
E3-1270v5
32GB
512GB x 2
SSD
RAID-1
10Gbit
POA
ICUK-750
Dual E5-2620-V4
64GB
1TB x 2
SSD
RAID-1
10Gbit
POA
ICUK-1000
Dual E5-2620-V4
128GB
1TB x 4
SSD
RAID-10
10Gbit
POA
*NEW*

Archive Orders

For the purpose of audits, legal obligations, backdated billing, and assisting in providing explanations after the event, we have not provided a 'delete' facility on line rental and leased line products. We appreciate that for resellers with large estates this can make for a messy list of orders.

To aid the situation we have provided an archive feature which appears alongside orders in a suitable status for archiving. For example, if a line rental has ceased, rejected or migrated away, an icon to archive () appears next to that line. Selecting to archive a line means it will no longer appear in any of the tabs other than the new archive tab on this page. This can be undone by selecting the icon next to the archived order (). This should reduce clutter on the key tabs you reference the most without deleting data to aid future visibility.

Available for:
Broadband Orders (replaces deletion)
Wholesale Line Rental
Leased Lines
Free PSTN Line Installation Offer Extended to BT Wholesale Orders
To date, we have only provided free line rental installation on TalkTalk ADSL and FTTC based simultaneous provisions. We have added a new range of BT Wholesale products and are able to extend the order. You simply need to place a new WLR order, select a simultaneous broadband order, and choose an ADSL or FTTC unlimited connection on a 12-month contract with either TalkTalk or BT Wholesale to be eligible. The WLR installation charge (excluding TRC) will be zero-rated on your bill.
New PSTN Order + Simultaneous Broadband (12 month term)

=

Free WLR Activation + Free Broadband Activation
(You just pay the line rentals)
Broadband Upgrade Path Visibilty
Broadband (hover) --> Broadband Accounts --> Upgrade? (tab)
We have removed the 'FTTC?' tab which was previously available. This simply highlighted connections with an FTTC upgrade path. We have renamed the tab 'Upgrade?' and the results now highlight FTTC, G.Fast and FTTP upgrade paths. We aim to run quarterly checks against our estate to reveal any changes.
Before completing an upgrade please make use of the broadband checker to confirm live availability and predicted speeds. To proceed with an upgrade to FTTC or G.Fast simply follow the modify path when managing a circuit. For FTTP orders, there are no upgrade paths, instead you would need to place a new order, and cancel the older copper connection when you're ready.

*NEW*

Leased Line API Requests

Admin (hover) --> API Documentation --> REST API

We have extended the range of API calls for leased lines. These now include:
Get Leased Lines
Get Leased Line Order
Order updates
Retrieve uptime logs
Failover visibility
Access open fault updates
Manage rDNS